Grinded Aluminum / Aluminum Grinding
Referans Metal is the first company in Turkey to supply grinded aluminium, which is a material that requires special and tough grinding operation before processing. We introduced this unique material to Turkish industrialists for the first time in 2005. Now, we can grind alloy aluminium with any size up to +0.001 (one per thousand) tolerance.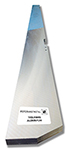 Previously, most of the firms in Turkey could not find any aluminium alloy sheets in grinded forms, which inevitably caused significant delays and extra costs.
We, as Referans Metal, now produce aluminium alloy material in any size and milled grinded form. Our service does not save you time alone. At the time of grinding and gentle processing, aluminium alloy rapidly gets warmer. Particularly the perforated aluminium alloy with dressed body or which somehow undergoes a drainage treatment gets warmer. Due to its de-homogenised volume, the aluminium alloy is distorted (çarpılmak) substantially, which eventually requires not only time and effort, but also more financial cost.
Our customers can cancel out all these costs and delays by procuring their grinded aluminium alloy from our Company. Without causing any loss of time, our service allows realizing large-scale projects that require sensitive and due care.
Please call our Engineering Department, which is the first to offer such services to our industrialists in Turkey. We would be happy to share our know-how and broad experience with you.